When it comes to your septic system, you probably do a bit of diligence already in smart water use, avoiding putting harsh chemicals down your drain and flushing only septic-system-friendly toilet paper – but did you know that your landscaping and exterior elements can have a huge impact on your septic system as well? Everything from tree roots to vehicles parked on your drainfield to having non-native plants in your yard – these are all important considerations when it comes to keeping your septic system and drainfield operating optimally. What are the most important landscaping dos and don'ts for your Southwest Florida septic system? We've laid them out for you below:
Don't allow any of the following to be placed near or on top of your septic tank or drainfield:
Sprinkler lines
Decks and patios
Storage sheds
Vehicles of any kind
Swimming pools
Driveways
Swing sets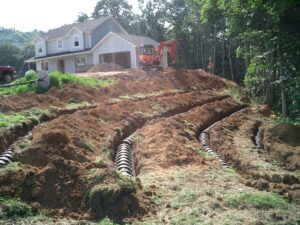 It is important to avoid any weight on your drainfield or septic tank because undue pressure could damage the pipes in your drainfield and cause your system to fail. Oxygen also needs to be present in order for effluent that passes through your drainfield to be further broken down. Placing heavy objects on your drainfield compacts the soil and deprives it of oxygen.
Do choose native landscaping with shallow roots
Plants that are native to Southwest Florida are more drought resistant and don't require as much year-round water to thrive. This is better for overall water use. Planting sod on your drainfield is ideal, as sod has a shallow root system and will help with the oxygenation of the soil and avoid drainfield erosion.
You should be careful to avoid bushes or trees with invasive or deep roots. Keep trees at least 5 feet away from your septic system and tank. Check out this article for tips for keeping tree roots away from your drainfield.
Here are a few suggestions for septic-friendly landscaping:
Grasses:
Fescue
Lawn
Ornamental grasses
Wildflower meadow mixes
Groundcovers for sun
Bugleweed (Ajuga)
Carpet heathers (Calluna Vulgaris)
Cotoneaster (Cotoneaster)
Ground ivy (Glechoma)
Kinnikinnick (Arctostaphylos)
Periwinkle (Vinca)
Groundcovers for shade
Bunchberry (Cornus)
Chameleon (Houttuynia)
Ferns
Mosses
Sweet woodruff (Galium Odoratum)
Wild ginger (Asarum)
Wintergreen (Gaultheria)
Don't place vegetable gardens above your septic system
Not only will vegetable gardens cause potential issues for growing into drainfields and septic systems, but your drainfield discharges partially treated effluent, which isn't a great place to put a food source that you'll be consuming. To protect your drainfield, be sure to avoid planting any vegetables in and around your drainfield.
Do stick to topsoil fill above your drainfield
There should only be a few inches of topsoil on top of your drainfield. This will allow adequate oxygen and more space for your effluent to filter down through the soil for the effluent to be fully processed before it recharges the natural aquifers. Avoid any type of gravel or other fill besides topsoil on your drainfield or septic tank. Soil type matters to your drainfield and the ideal soil type for drainfields is a mix of fine and coarse particles that make for good percolation and drainage.
Do know the signs of a failing drainfield
Doing your diligence is incredibly important when it comes to your septic system maintenance, but you should also know the signs that your drainfield is failing. Pooling water at your drainfield and sewage backups into your home are the most common symptoms, but there are other signs you need drainfield repair.
Caring for your drainfield and septic system are important, not just during SepticSmart week in September, but every day. Protecting your investment will save you money and is better for the environment in the long term. Take these proactive measures when it comes to your landscaping and the areas surrounding your drainfield to protect your septic system.
Worried that you may have a landscape related or other issue associated with your drainfield?